A LAND site in the Holland Rise good class bungalow (GCB) area has been put up for sale with an indicative price of S$106 million, said marketing agent Knight Frank on Wednesday (Nov 23).
The same site was put up for sale in January 2021 for S$68 million, pointing to a 55 per cent jump in asking price in under two years.
The higher S$106 million asking price translates to around S$2,000 per square foot (psf) based on a land area of 52,992 square feet (sq ft), which can be subdivided into two to three GCBs.
The plot of land, now vacant, is accessible via two cul-de-sacs, one at Holland Rise and another at East Sussex Lane. Also in the vicinity are Holland Road MRT Station, One Holland Village, Holland Drive Market & Food Centre, Chip Bee Gardens, and more. The GCB site is also a 10 to 15 minutes drive to Orchard Road and the central business district.
Knight Frank Singapore executive director of capital markets Mary Sai expects keen interest in the listing, given the limited availability of huge landed homes in the prime districts and healthy demand from foreign ultra-high-net-worth families willing to pay rental premiums for such properties.
"Within the area, the most recent transaction was a GCB at 54 Cornwall Gardens, which sold at S$47 million, reflecting about S$2,162 psf on a land area of 21,740 sq ft. Additionally, there was another transaction for a GCB at 32 White House Park which sold for S$45.5 million, or approximately S$3,017 psf on a land area of 15,081 sq ft."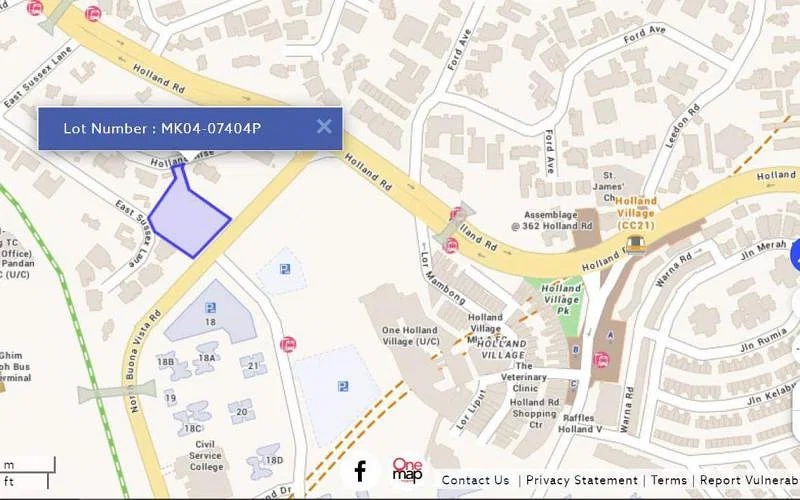 Source: The Business Times