It's a rare moment for Singapore's luxury property market.
Three of the country's most prestigious homes, known as good class bungalows, are on sale in a quiet central neighbourhood where only five such mansions have changed hands over the past five years.
The coveted residences are expected to fetch a record price of almost S$240 million (US$168 million) combined after prospective buyers submit bids by Nov 3.
This is Nassim Road, a leafy, embassy-lined boulevard that stretches from the award-winning Botanic Gardens to the edge of the iconic Orchard Road shopping belt.
In a country with no shortage of prime residential areas, the historic avenue – home to Asian royalty and global tech entrepreneurs – is the plushest of the plush.
"If you can afford to own a good class bungalow in Nassim, you're somebody," said Douglas Wong, senior director of capital markets and investment sales who oversees luxury homes at property agency ERA Realty Network.
Over the past 26 years, he has sold 73 of the prestigious properties, on Nassim Road and elsewhere. "People know who you are."
It's the most extreme example of how Singapore's red-hot real estate market is bucking a global downturn spurred by higher interest rates as central banks seek to tame inflation.
The super-rich are increasingly drawn to global financial hubs seen as winners in the pandemic, and money isn't a factor when buying trophy homes.
Nassim Road is named after Nassim Lodge, a family house that was built in the 1850s and owned by a wealthy Jewish landowner who resided in the neighbourhood.
It was one of the lush, wooded areas where the British colonial administration set up lavish properties – not just good class bungalows, also black-and-white mansions known for their whitewashed walls and black-stained timber details – to cater to their high-ranking officials. In later years, they became the homes of rich local merchants.
Today, its residents include members of the royal family of Brunei, the sultanate on the island of Borneo rich in oil and gas. Eduardo Saverin, Facebook's co-founder, was also reported to own a home on Nassim Road (he didn't respond to a LinkedIn message seeking comment). Japan, Russia and the Philippines have embassies there.
Nassim Road is home to just 62 of the island's 2,800 good class bungalows, and they almost never go on sale, according to Wong. The mansions or villas have plot sizes of at least 1,400 sq m, with the house taking up no more than 35 per cent of the land area. Although they're called bungalows, they can have as many as two above-ground floors.
The properties are seen as the ultimate luxury in a country where 80 per cent of the population lives in public housing flats. The Nassim Road homes are considered the ultra-prime tier.
Three of them were put on sale in late September by Cuscaden Peak Investments, a unit of a consortium led by Malaysian hotel tycoon Ong Beng Seng. The asking price of S$5,200 per square foot would beat the S$4,291 record that local startup founder Tommy Ong paid last year for a property at nearby Cluny Hill. The three Nassim bungalows are adjacent to one another, and buying them all would cost S$239 million.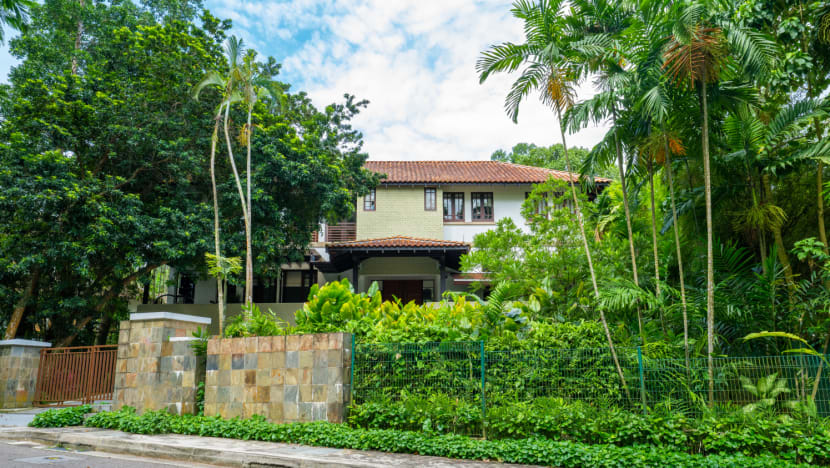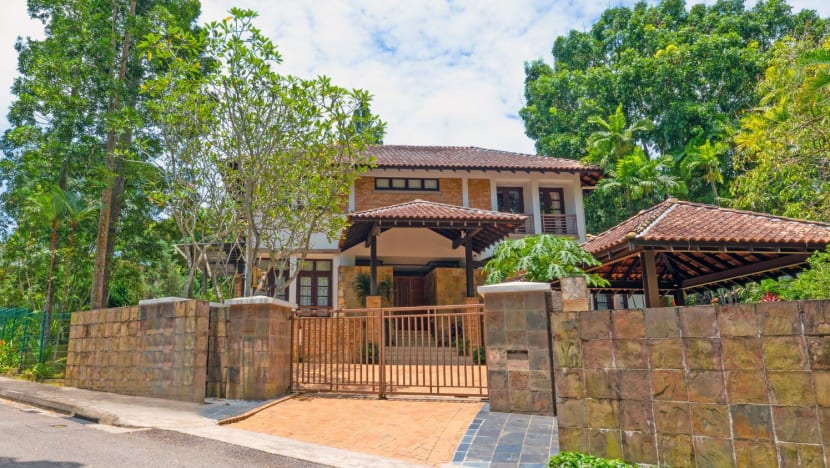 Realstar Premier Group, the appointed real estate agent for the plots, said there's no specific reason why Cuscaden Peak is selling the properties.
"Anything that comes to the market in Nassim is extremely rare," said Nicholas Keong, head of private office at brokerage Knight Frank Singapore, adding that asking prices reflect this. "Buying a good class bungalow in Nassim is like buying a piece of fine art."
Several parties have already viewed the three mansions ahead of the Nov. 3 deadline for submitting offers, said Realstar Premier's founder, William Wong. While the properties may be sold separately, he says some people are interested in buying all three and turning them into a multigenerational family home.
Buyers of good class bungalows generally have to be from the country, although there are exceptions: British vacuum-cleaner billionaire James Dyson owns one in the vicinity of where Nassim Road meets the Botanic Gardens.
The most common route, though, is to become a citizen or purchase through a Singaporean spouse. Indonesian and Chinese tycoons who acquired Singapore citizenship are among those keen on the Nassim homes for sale, Realstar Premier's Wong said.
Chinese-born restaurant tycoon Sean Shi, who now has Singapore citizenship, paid S$50 million in September for a good class bungalow near the Botanic Gardens, though it was on Cluny Hill rather than Nassim Road, local media the Straits Times has reported.
A spokeswoman for his Haidilao International Holding Ltd. hotpot chain didn't comment when Bloomberg asked about the purchase in October, saying it was a personal matter.
Newly minted citizens prefer to go after good class bungalows in prime locations rather than those in the outskirts, Realstar Premier's Wong said. They tend to be more accepting of the current high prices than wealthy people born in Singapore, he added.
While home prices in many global markets are falling, Singapore's private property values continue to rise. In the third quarter, they surged 13 per cent from 2021, and Moody's Investors Service forecast that housing affordability in the country will deteriorate.
When it comes to good class bungalows, the average sale price has climbed 46 per cent to S$1,945 per square foot from five years ago. Those on Nassim Road have more than doubled, according to Knight Frank, which cited data from the city's Urban Redevelopment Authority.
Despite the demand, a few good class bungalows on Nassim Road sit empty. Most owners want to hold them even if they don't live there because they are rare and prestigious, according to Realstar Premier's Wong.
ERA's Wong recalled that, back in 2005, he sold a good class bungalow on Nassim Road for S$405 per square foot, or less than S$10 million. Those days are gone, he says.
"Nobody actually wants to sell," he said. "They will pass it down from generation to generation. Singapore is such a small country that every square foot is gold."
Source: ChannelNewsAsia